Awesome!! That's how everyone described the day.
The inaugural Classic Wooden Dinghy Boat Race was held at Horseshoe Bay, Peel Island last Sunday 20th October with contenders fiercely competing for the trophy. Best of three races – over about 500m.
The Queensland maple gleamed with its 10 coats of varnish inside and finish of AwlGrip 2 pack white gloss outside. The rig was purpose built for the race over the past seven weeks. "Baby Doll", an 11.6′ gaff-rigged clinker was sailed by Bill Wright from Norman R. Wright & Sons. Baby Doll was originally built as "Satin Doll" in 1985 and has been owned by Bill for the past 28 years.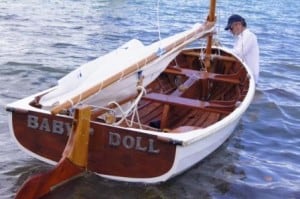 At race time, Bill reckons that the weather was awful – raining and light winds. That's what "Patsy" the terrier thought too!!
Ian Wells won the prize in his classic Herreshoff.
Thanks go to the organisers – Chris Tyquin, Ian Eastgate, Peter Cavill and Bill Wright, and to all of those that came along on the day.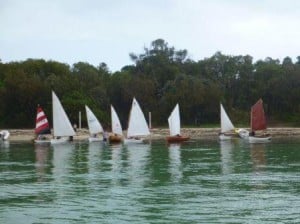 If you're interested in participating in the next race, please contact Bill Wright at bill@wrightsons.com.au