Norman R. Wright & Sons has built and maintained a pre-eminent position in the design & construction of a variety of commercial vessels. From pilot boats to city cat fleets, police boats to ferries, our commercial vessels are a blend of the finest design, distinctive styling and outstanding naval engineering.  Norman R. Wright & Sons endeavours to provide our clients with an optimal but cost effective design and build.  We work in collaboration with our clients, ensuring their requirements are met and that the result is a highly durable vessel, requiring minimal maintenance and offering a protracted operational life.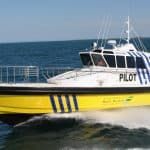 Norman R. Wright & Sons has over 90 years experience in the design and construction of Pilot Vessels.  Our vessels are designed and built to ensure compliance with legislated or specified standards; predominately AMSA MO 54/5 and derivatives in Australia. Over the years, our customers have included organisations such as the Brisbane Marine Pilots, the Department of Transport & Main Roads (Marine Safety Queensland), the Australian Reef Pilots and many more. Read more..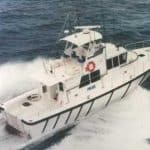 The first police boat was built by Norman Wrights in 1935 for the Queensland Water Police. Since that time, numerous police boats have been built using in-house house designs and meeting with the specific operational requirements of the police service. These include general purpose, patrol, rescue & pursuit boats. Read more…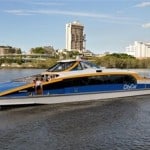 While the most familiar of Norman Wrights ferry builds are the 2nd and 3rd generation City Cat fleets for the Brisbane City Council, the company has been designing and building a range of ferries for a variety of customers since 1910. Our range has included various mono-hull & multi-hull vessels, all designed and built in keeping with the company's proud tradition of specialised design and quality workmanship. Read more…
Navigational Aids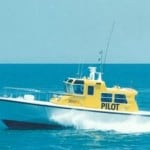 Since the Cape Otway Dory type in 1938, Norman R. Wright & Sons have designed and built a large number and variety of Nav-Aid Vessels. Our designs have been proven to offer long, effective service lives. This is no more evident than with the very successful dual purpose Pilot/Nav-Aids "Cape Class" vessels, built for the Queensland Department of Transport.
Hydrographic Survey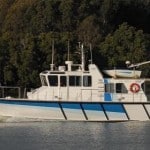 From modest beginnings in 1952 with a dinghy built for the Prospecting & Survey Branch Department of Interior, the company has designed and built a broad range of survey vessels. These have incorporated both fast survey vessels such as the Port of Brisbane's Jim Peel and American Geophysical types for private industry. All have been well received and been proven effective and capable in use.