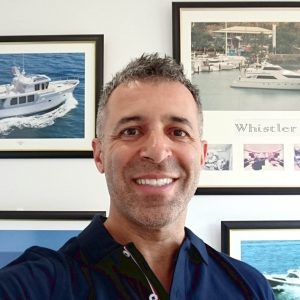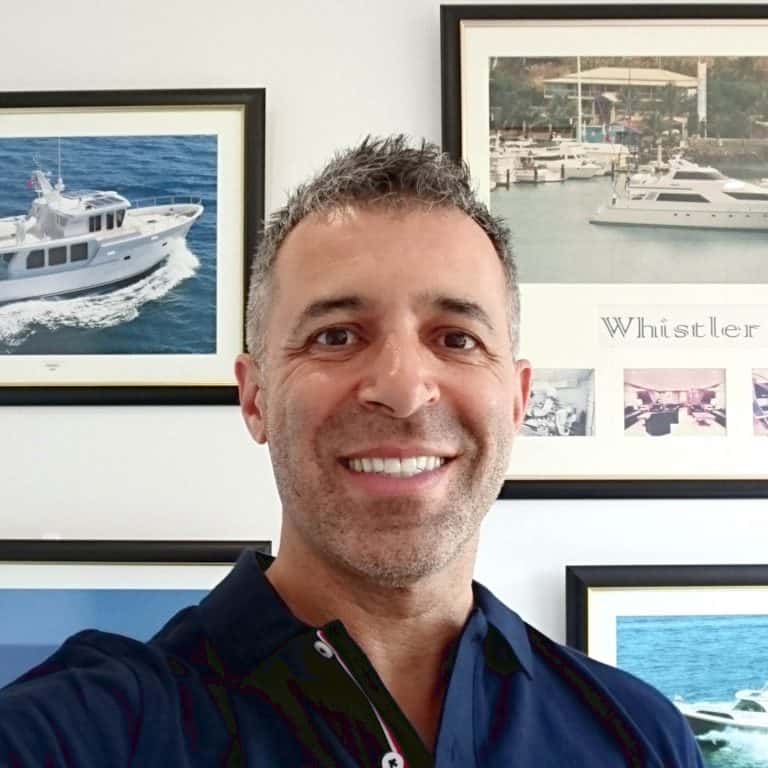 Naval Architect & Head Designer
Introducing Adam Evripidou, one of our resident Naval Architects and our lead designer. Here we get a bit of an insight into Adam's career to date and his thoughts on the direction of design and evolution in the marine and boat building industry.
Adam holds a Bachelor of Engineering Naval Architecture (Honours) and has a great deal of experience in designing both commercial & luxury vessels, and has been our resident Naval Architect for 20 years. In partnership with Bill Wright, he has been responsible for some of our most iconic vessels. Adam currently heads up our Sydney office.
Do you have family and do you enjoy boating? What's the best thing about being out on the water?
I never had any connection with boats unfortunately as a child, although I was always drawn to boats from a very early age. Which really confused my family! I was fortunate that my parents were still very supportive of my chosen career path.
My father was a carpenter so I always had endless amounts of timber lying around the house. So I use to design boats on our garage floor when I was in high school and build them out of my dads timber.
I love having anything to do with the water and could never live far from it. I think the constant movement and challenge of taming the ocean is what intrigues me about the profession.
Tell us about your career to date and professional background?
I have a Bachelor of Engineering Degree in Naval Architecture from the University of New South Wales. As soon as I saw the tank test models hanging from the ceiling of the faculty during the open day, I was hooked! My first job was with the legendary sailor Iain Murray at his yacht design company in Newport, Sydney. I was fortunate enough to work on an America's Cup campaign where I learnt a lot about high end composite engineering and construction from the best in the industry.
We were designing a 36′ Picnic Boat named Restless which was to be built at Norman Wright & Sons. It was at this time that NRW got the job to build the motor yacht Whistler which Bill Wright had designed. Every boat before that had been designed on drawing boards and they wanted to design Whistler on CAD. So I started there on loan for 6 months and ended up staying to this day!
Norman Wright & Sons was always a company that was highly regarded in the Australian boat building industry so I was flattered to be taking over from the legendary Ron Wright. Which was a tall order.
Bill and Ian Wright took me under their wings and taught me everything I needed to know about the business. The one thing I love the most about working for Norman Wrights is the diversity of the job. We are a one-stop-shop so we not only design and build the boats, we handle the contracts, specifications and client liaisons.
How have you seen the industry change?
Boat design I believe has strayed too far from the basics. It is largely driven by form rather than function. You can see a lot of stylists getting involved in boat design which leads to some interesting outcomes, although not very functional. Whilst I love modern styling, I think there is a time and a place and I don't think the open ocean where people's lives are in your hands is the place to experiment with this. Our clients safety always comes first. The everything else follows after that.
What do you like about the new boat building design & build processes, systems and materials?
When I first started working for NRW, they still had long hand stability calculations. We still have them in our archive room. Now we can run the stability on a boat with the push of a button whereas it would take weeks doing it long hand. It doesn't make the boats any better, it just allows us to investigate more scenarios and focus on other things. Current CAD systems allow us to build components in all different facilities and bring them together accurately to save time. We are always looking at ways to reduce build times of custom made boats and make the construction processes friendlier for our boat builders.
Where do you look to for your design inspiration and direction?
I love design in general. Most of my inspiration comes from supercars and high-end residential and commercial property. This is were I take most of my inspiration. However the one thing that is most important to me is that design should be timeless. The car industry is a good example of this where a 60 year old car is just as beautiful as a modern car. I want my boats to be looked at in the same light. The best way to define my style in boats is modern classics.
What's the highlight of your career?
It is difficult to put it down to one. Working at Wrights is in my mind, a dream job for a Naval Architect. The diversity in the boats we build is what excites me. This keeps the job interesting and challenging. Every boat we build is a prototype so it can be stressful, but very rewarding. I would say designing Whistler with Bill Wright was one of the big highlights for me.
What do you think the benefit is for clients when building a custom boat with Norman R. Wright & Sons?
I believe our strength is our diversity. What we learn from commercial pressures and time constraints of building commercial boats we put into our pleasure boats and what we learn from quality control in our pleasure boats we put into our commercial boats. So it basically makes better boats all around. We are adaptable to change and always pushing to be the best in the custom design and build industry. We are a one-stop-shop for a client. We take them from their initial dream and bring it to reality. With only one point of contact. The client can be involved as much or little as they want, and be assured that our sole purpose is to bring their dream to reality. We do everything in-house and they only have to work with one person. We know our clients are busy people and it is important that they feel comfortable and know that we are as obsessed with their boat as they are.