Barcoo– 12 Metre XLW Class Patrol Vessel
The second of our new 12m XLW Class Patrol Vessels was built for the Great Barrier Reef Joint Field Management Program to provide a reliable, safe and seaworthy vessel able to operate for extended periods in Queensland waters, including remote, offshore and tropical locations, and in extreme weather and sea conditions.
Leveraging the highly efficient hullform of our 14.2m XLW Class Pilot Vessel, the design was tested extensively with Computational Fluid Dynamics (CFD), built with an advanced composite structure and finished to Wright's renowned world class standards.

Apart from the highly efficient hullform, the vessel provides extensive advantages over typical aluminium hulled, rigid inflatables vessels:
Lighter and more fuel efficient
Softer ride and better punching with the relative longer waterline
Greater space utilisation and storage volumes with the monocoque composite structure – eg. below floors are fully accessible for storage and equipment.
Significantly reduced maintenance and much greater life – aluminium corrosion is totally eliminated.
Hard collar fender allows for greater vessel moulded beam and accommodation spaces, and reduce maintenance, compared with inflatable fenders.
The semi-customisable design allows NRW to cater for any industry requiring an unrelenting patrol boat and suits applications such as Police, SAR, Defence and Border Protection operations to name a few. Options include full walk-around decks, operators computer console in the cabin, head in the accommodation, full galley in the cabin, aft raked windscreen, twin or triple outboard propulsion, Volvo IPS or Waterjet inboard diesel power.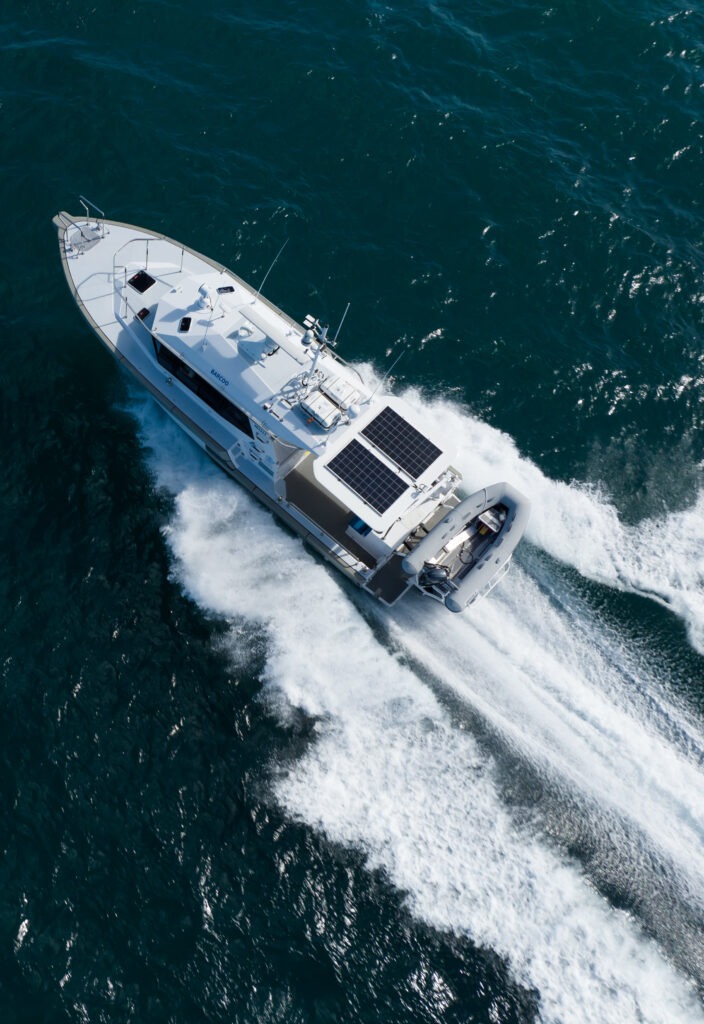 12 Metre XLW Class Patrol Vessel
Vessel Name: Barcoo
VESSEL TYPE  | General Purpose Patrol Vessel
CONSTRUCTION | Composite – foam cored epoxy glass sandwich
HULL FORM | NRW XLW Class
MEASURED LENGTH | 11.94m
BEAM | 4.06m Overall, 3.74m Moulded
DRAFT | 0.62m Hull, 0.91m Props
SPEED | 38 plus knots maximum,  27 knots cruise
RANGE | 350nmiles @ 25 knots
PROPULSION | 2 x Yamaha XTO 425hp Outboards
ELECTRICAL | 12VDC / 240VAC
GENERATING POWER | Onan 7kW (Diesel)
STABILISER | Quick X10 Gyro
TENDER | 3m RIB Force with 8hp Yamaha
PETROL |  2170 litres
DIESEL | 300 litres
FRESH WATER | 400 litres
SULLAGE | 100 litres
CREW BERTHS | 2 
SURVEY | AMSA DCV 2C (2 +12) 
CLASSIFICATION | DNV 1A HSLC R2 PATROL S (STRUCTURE)
OTHER FEATURES:
 P&S Transom Gates, Bow Boarding, Pusher Fender, Protected Anchor, Air-Conditioning,  Full Galley, Fully Enclosed Head with Shower, Custom Davit, Solar Panels, FLIR, up to 7 Day Accommodation