Island Guardian – 20 Metre High Speed Landing Craft
Island Guardian is a custom-designed and built 20 Metre High Speed Landing Craft built for the Great Barrier Reef Joint Field Management Program.
The vessel is a multi-purpose platform designed to perform a range of tasks including patrol operations, dive support operations, marine infrastructure installation and maintenance (eg moorings and signs), and island park management (camp grounds, walking tracks, weed management).
A key capability is a 7-tonne capacity cargo deck with the ability to load and unload 4WD vehicles, side by side vehicles, small excavators, posi-track machines, small tractors from boat ramps and beaches of varying gradients in challenging sea conditions.
Design was by Incat Crowther and features a wave piercing hull design, propeller tunnels to achieve low draft, and a forward nacelle to combat heavy sea states associated with prevalent south-east trade winds.
The vessel is required to operate independently for up to 10 days away from port in remote offshore reef areas with up to 7 persons onboard, and has a range of 500 nautical miles. Day trips can accommodate up to 24 persons.
This is Norman R. Wright & Sons' third alloy catamaran vessel delivered for the Program in the last 4 years, with previous vessels being the 24m Patrol Vessel Reef Resilience and the 17m Patrol Vessel Tamoya.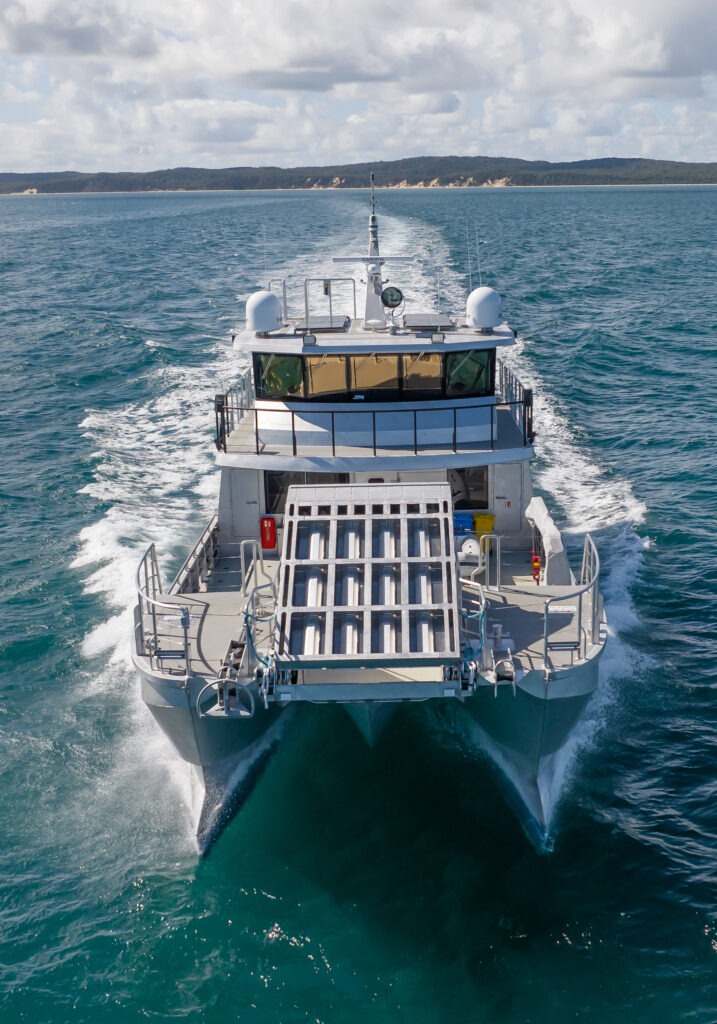 20 Meter High Speed Landing Craft
Vessel Name: Island Guardian
VESSEL TYPE  | High Speed Offshore Landing Craft
CONSTRUCTION MATERIAL | Marine Grade Aluminium
HULL FORM | Incat Crowther design IC19046
MEASURED LENGTH | 21.0m
BEAM | 7.5m  
DRAFT | (maximum) 1.36m
PROPULSION | Shaft driven propeller

MAIN ENGINE POWER | 2 x MAN D2868LE426 V8-1000 EPA3
INSTALLED POWER | 2 x 749 kw @ 2100-2300 rpm
GEARBOX | 2 x ZF 665  2.233:1 reduction
SERVICE SPEED | 20 knots  at 1970 rpm
MAX SPEED |  25 knots
RANGE/ENDURANCE | 500 Nautical Miles @ 20 knots + 10 days at sea + 10% reserve
POWER| 2 x CAT 4.4 38ekW 3 Phase
TANKS FUEL | 2 x 4240 litre
FRESH WATER | 2 x 500 litres
SULLAGE | 400 litres
SURVEY/FLAG | AMSA DCV 1C (24 POB) & AMSA DCV 2B (14 POB)