Reef Resilience is a state-of-the-art 24 metre custom-designed aluminium catamaran patrol vessel, designed and built for the Great Barrier Reef Joint Field Management Program. 
Servicing the Great Barrier Reef from its homeport of Gladstone, Reef Resilience's role is compliance monitoring, marine park and island national park management, diving and research operations. The vessel will also operate in remote offshore waters within the Australian EEZ for extended periods of up to 3 months.
The new hull form is designed to handle Queensland conditions up to 200nm from the coast with strong winds and 3 metre significant wave heights and is capable of conducting long transits comfortably at 20 knots.
Reef Resilience has an extensive array of onboard systems and equipment, along with significant safety requirements all accommodated effectively and to exacting standards. Our production team worked closely with AMSA Surveyors to ensure the vessel's long-range offshore regulatory safety and compliance alongside the application of our ISO 9001 quality control system.
An example of the many custom elements of the custom built vessel is a unique tender lift system that allows for hydraulic rams and a pulley system to launch a large tender at 45 degrees whilst traveling at 6 knots. The system was built to allow the tender to be launched in up to 3 metres of swell.
Reef Resilience is now engaged in protecting Queensland marine parks through the Great Barrier Reef Field Management Program.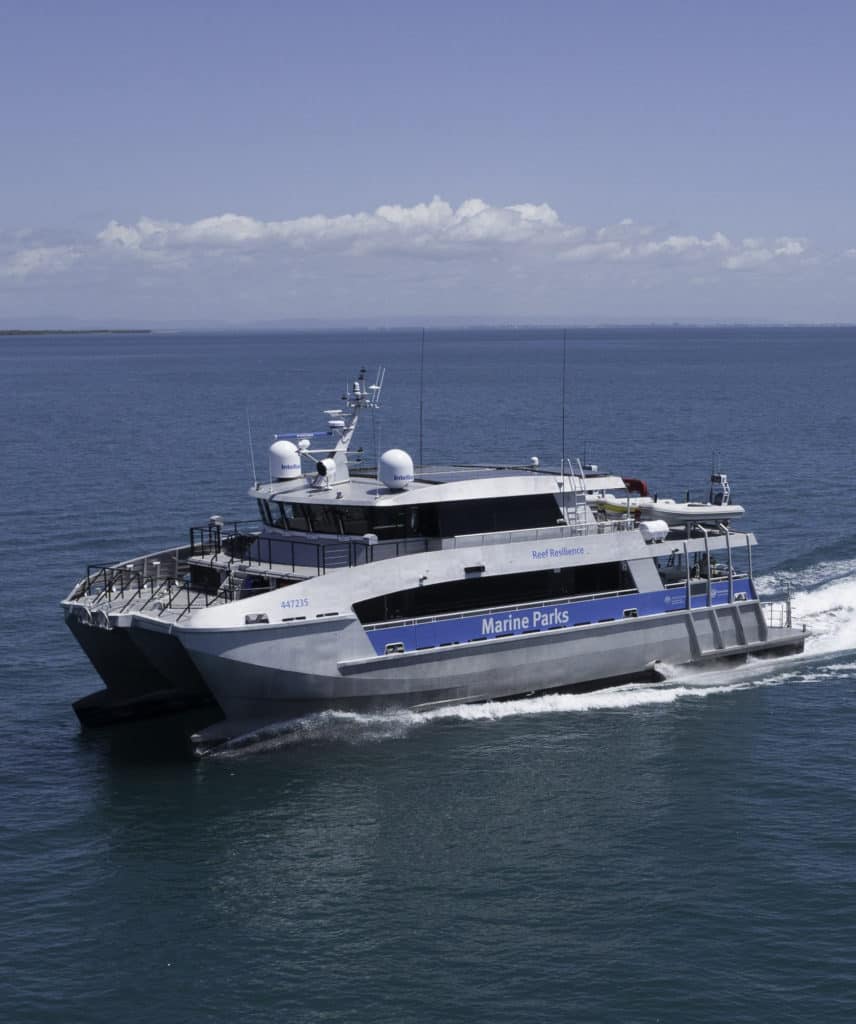 Reef Resilience – 24 Metre Long Range Patrol Vessel
Vessel Name: Reef Resilience
PLATFORM | Catamaran
LENGTH OVERALL | 24.99m
LENGTH MEASURED | 23.99m
LENGTH WATERLINE | 24.56m
BEAM | 9.5m (OVERALL) 4.53m (MOULDED)
DRAFT HULL | 1.7m  
DRAFT MAX | 2.3m  
DEPTH | 3.9m
PASSENGERS | 14 
CREW | 14  
FUEL| 18,000 litres
FRESH WATER | 3,000 litres
SULLAGE | 1,500 litres
SERVICE SPEED | 20 knots
MAXIMUM SPEED | 27 knots
MAIN ENGINES | 2 X MAND2862 LE463
INSTALLED POWER | 2 x 749 kw @ 1950
PROPULSION | 2 X Propellor
CONSTRUCTION MATERIAL |  Marine Grade Aluminium
FLAG | Dept. of Nat. Parks, Sports and racing
CLASS| NSCV 1C/2B