14.2m XLW Class Pilot Boat "Siabo"
Introducing "Siabo" the first of the new custom designed and built 14.2m XLW Class Pilot Boats by Norman R. Wright & Sons. "Siabo" is the first boat to hit the water from Wrights featuring their all new Extra Long Waterline (XLW Class) design, which offers optimum seakeeping and efficiency in ALL sea conditions.
The new generation XLW Class Pilot Boat was designed and built from the keel up incorporating a warped planing hull & new production techniques that have resulted in a 3 knot increase in max speed with 100hp less power whilst retaining strength and providing a soft dry ride. Working with the team from ATL Composites, our Naval Architects and Master Tradesmen integrated unique composite construction combining resin infused and pressed GRP cored panels with DNV GL approval.
The design allows for a reduced centre of gravity for superior stability enhancing pilot safety when alongside ships, along with wide, flush, uninterrupted side decks around the entire vessel for optimum safety.
Like most boats built by Wrights, the XLW Class Pilot Boat offers fully customisable cabin, helm and deck layout options, while the vessel can accommodate a variety of engine options to achieve speeds in excess of 30 knots.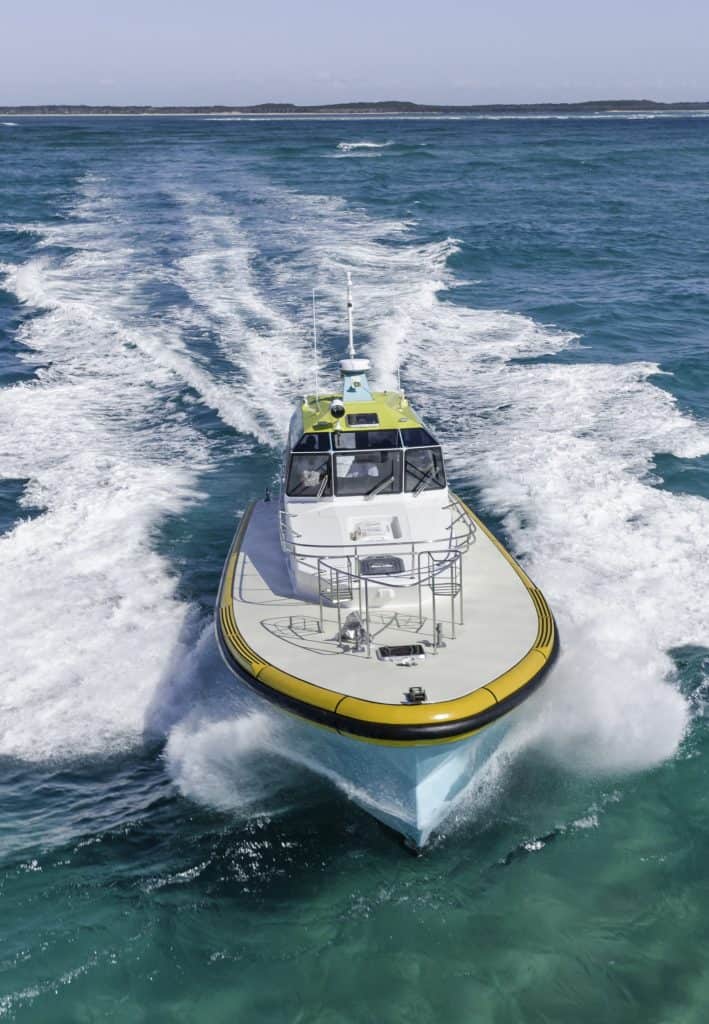 14.2m XLW Class Pilot Boat "Siabo"
LENGTH | 14.80m (OVERALL) 14.20m (MOULDED) 13.72m (WATERLINE)
BEAM | 5.14m (OVERALL) 4.53m (MOULDED)
DRAUGHT | 0.92m (HULL) 1.17m (MAX)
DEPTH | 2.20m
DISPLACEMENT | 14.2t (LIGHTSHIP) 17.4t (FULLY LOADED)
AIR DRAUGHT | 4.41m (MAST LOWERED) 6.06m (MAST RAISED)
DIESEL | 2 x 1200 litres
FRESH WATER | 2 x 150 litres
BLACK WATER | 1 x 60 litres
SEATING | 5 (SUSPENSION) 4 (SETTEE)
GALLEY| SINK, MICROWAVE, FRIDGE, COOKTOP
ACCOMMODATION | TOILET, BASIN
MAIN PROPULSION | 2 x YANMAR 6CXBM-GT (M), 400mhp at 2500rpm (Mechanical) 2 x ZF305-3A
PERFORMANCE (HALF LOAD) | 25.8 knots @ 159L/hr (TOTAL) 20.0 knots @ 92 L/hr (TOTAL) 18.0 knots @ 76 L/hr (TOTAL)
GENSET |  1 x ONAN 7kVA
ELECTRICAL SYSTEM | 24V DC/240V AC
SURVEY |  NSCV CLASS 2C
CLASSIFICATION | DNV 1A HSLC R2 CREW (STRUCTURE)
AMSA | MARINE ORDERS 54 ISSUE 5
CONSTRUCTION | GRP CORED COMPOSITE, EPOXY, E-GLASS