Police Barge - Stewart Kerlin II
Norman R. Wright & Sons collaborated with One2Three Naval Architects to deliver this highly successful multi-purpose high-speed landing craft for the Queensland Police Service.
The vessel operates as a high-frequency inter-island police service in partially smooth waters from Brisbane to the islands of Moreton Bay and replaces an ageing and smaller barge operated by Queensland Police Service that was unable to adapt to the ever changing operational demand.
The vessel is also required to accommodate a range of potential uses including marine regulatory enforcement, and to be set up as a "forward command post" (FCP) for major operations on the islands, or for use as an on-scene command vessel for marine search and rescue (SAR). 
Typical loading requirements are two crew, six passengers and two full size four-wheel drives (up to 7 tonnes deck payload), with a cruise speed of 25 knots a  sprint speed of around 28 knots.
The operating area is challenging due the presence of shallow waters, environmentally sensitive areas and the wide variety of loading ramp conditions and angles encountered.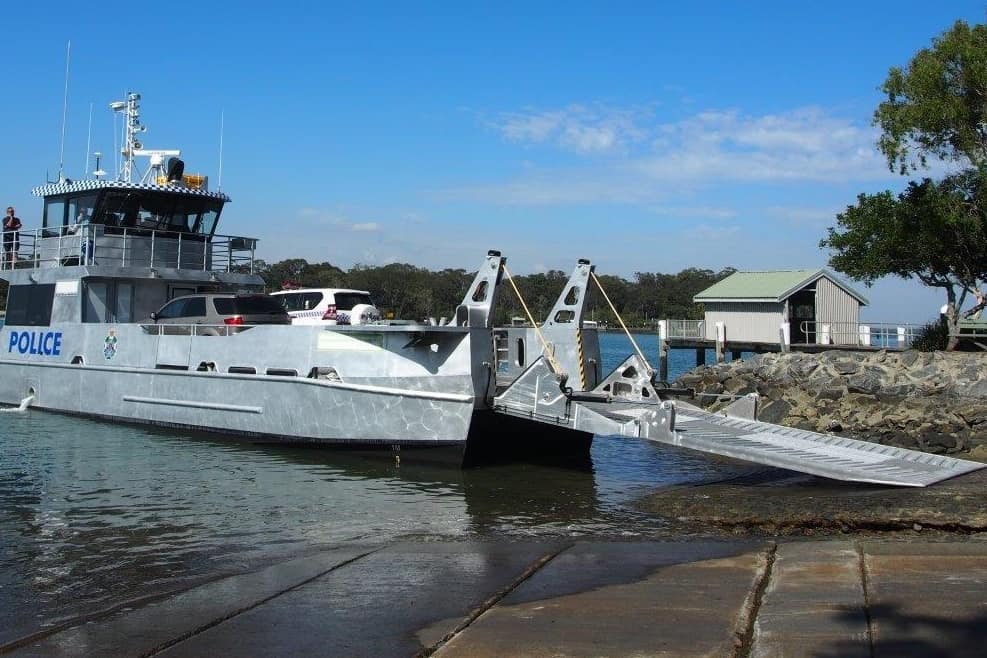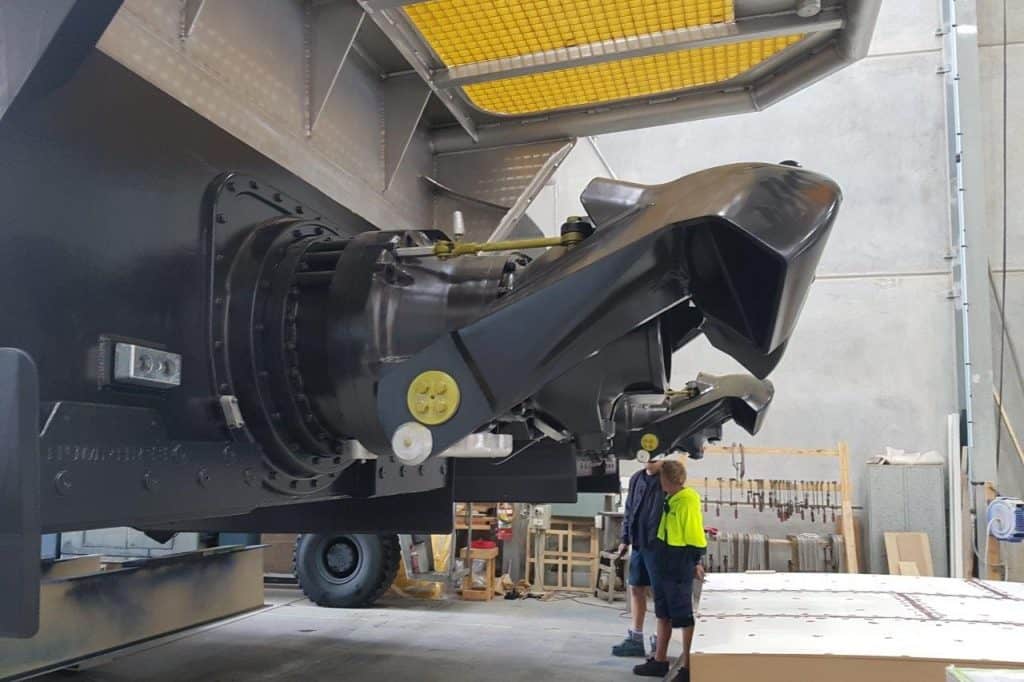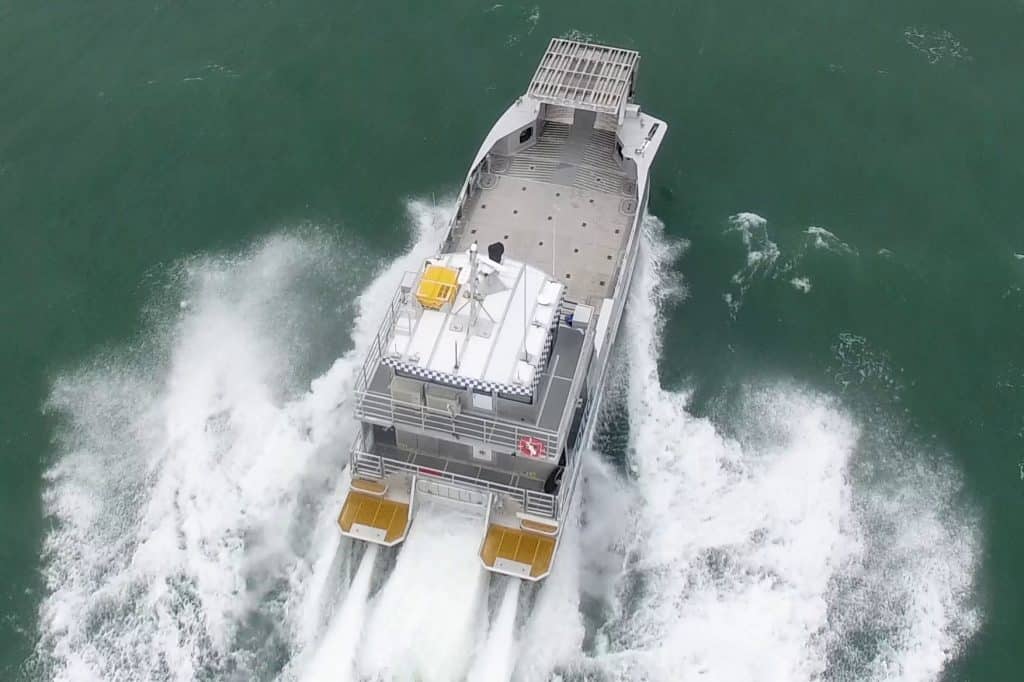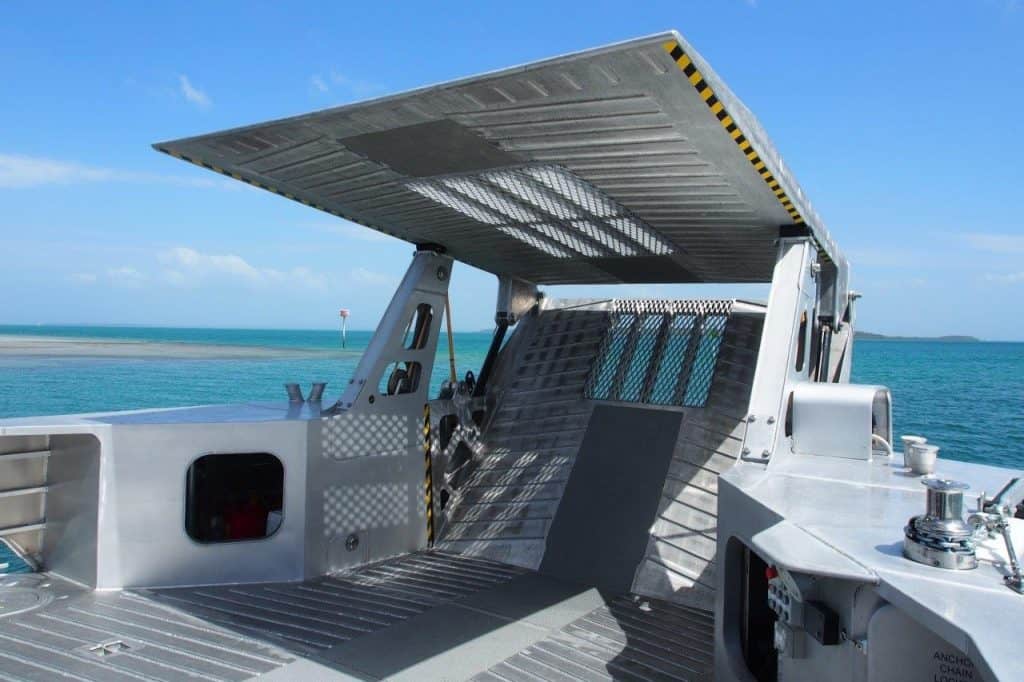 In collaboration with One2Three, a highly efficient and lightweight aluminum catamaran design powered by water jets was developed to allow high speeds and low wash to be achieved in an environmentally sensitive area. 
The new vessel operates under 2D survey, however was required to be built to 2C survey to future proof for extended areas of operation. 

The vessel is distinguished by a robustly designed, two-stage, hydraulically actuated folding loading ramp with position sensing. The three-phase hydraulic power pack has been upsized to ensure rapid deployment of the ramp.  Redundancy is provided by a 24V power pack driven from an emergency battery bank, ensuring the vessel can retrieve the ramp and return safely to base in the event of three-phase power failure.
Redundant seawater, bilge, fire, and electrical systems provide high levels of reliability and crew safety.   The vessel also features a detention/holding cell and a separate firearm/equipment locker built to QPS standards.
Custom Police Landing Craft Specifications
VESSEL NAME | Stewart Kerlin II
DESIGN | Police Patrol Landing Barge
YEAR LAUNCHED | 2018
CONSTRUCTION MATERIAL | Aluminium
LENGTH OVERALL | 19.78 m
LENGTH WATERLINE | 16.33 m
BEAM | 6.18 m
DRAFT | 1.00 m
DISPLACEMENT (LIGHTSHIP) | 31.64 t
DISPLACEMENT (TRIALLED) | 36.24 t
PROPULSION ARRANGEMENT | Twin Hamilton Waterjets (HAM HJ-403)
POWERING | MTU Series 60 615kw @ 2300rpm
SPEED | 28.7 kts
FUEL | 3340 L
WATER | 208 L
GREY | 17 L
BLACK | 17 L