Cape Horn Engineering was established in 2007 and is now based in Portsmouth, UK. They are industry leaders in flow analysis with an expertise in aero-dynamic and hydrodynamic performance. Cape Horn Engineering are involved in the design and development of yachts for a wide range of high performance racing. Their methods have been developed in the extremely ambitious America's Cup environment, which requires rigorous testing and validation to remain competitive at the highest level. Their designs have won 3 consecutive Volvo Ocean Races, with ABN Amro in 2005/06, Ericsson Racing Team in 2008/09 and Groupama Sailing Team in 2011/12. 
Their flow analysis has been proven in a wide variety of other marine applications including sailing yachts, power boats, high speed vessels, planing craft, advanced and unconventional hulls.
For mor information visit https://www.cape-horn-eng.com.
QA with Cape Horn Engineering Managing Director Dr Rodrigo Azcueta.
HOW DID THE ORIGINAL RELATIONSHIP WITH NRW DEVELOP?
We were approached by NRW in January 2019 to be involved in the design studies for a new 85 ft production motor yacht, the Fleming 85 for one of their clients. This was to be the new flagship of the brand and they wanted to supplement the tank testing with CFD. Before starting to work on the Fleming 85, we embarked in a CFD blind validation project for the Fleming 58 model, which had been extensively tank tested at the Australian Maritime College in Tasmania and sea trial data was available for comparison. After a successful validation for the smaller Fleming yacht we ran the CFD simulations to provide the required results for the Fleming 85 and the tank testing was not deemed necessary. Our good working practices lead to the commissioning of many other design projects, and a trusted relationship was formed.
WHAT ARE THE KEY TYPES OF PROJECTS AND SERVICES YOU PROVIDE TO NRW?
We have provided CFD simulations for design optimisation and performance predictions for a variety of projects, such as Fleming 58, Fleming 85, workboats, pilot and police boats. CFD technology is a crucial support for naval architects to optimise designs for critical elements such as weight saving, performance predictions, reducing emissions and design optimisation.
WHY ARE YOU A KEY SUPPLIER OF NRW?
We have developed a strong and trusted relationship, continuously providing accurate analysis and data for NRW to optimise their design projects to achieve the best performance hulls. We are specialists within the marine industry and leaders in flow analysis with an expertise in aerodynamic and hydrodynamic performance. We use the best CFD package on the market, STAR-CCM+ from Siemens PLM and we are renowned for providing best in class services to many international clients around the world.
WHAT DO YOU AND YOUR TEAM LIKE ABOUT WORKING WITH NRW?
NRW are very knowledgeable about hydrodynamics, having performed many physical tank tests in the past. Since we started collaborating with NRW they recognise the value of CFD simulation, which provides much more insight into performance, by comparison. With each project, they have very clear expectations and provide precise information about what they need to understand for each design. This in turn, helps us to meet their requirements, run the simulations and provide the necessary data.
We have enjoyed working with NRW on the luxurious new Fleming 85 to ensure the most efficient hull possible and good seakeeping characteristics were achieved. And more recently on various projects especially on workboats to achieve cutting edge efficiency.
https://www.cape-horn-eng.com/fleming-85/
WHAT WOULD BE ONE OF THE HIGHLIGHT NRW PROJECTS YOU COLLABORATED ON AND WHY?
The Fleming 58 blind CFD validation with tank test and sea trial data was a very important project for Cape Horn Engineering. The aim of the validation was to increase confidence in the current CFD simulations and to demonstrate that they are a good alternative or complement to tank testing for future projects. CFD offers substantial reductions in time and costs compared to physical modelling. NRW has become a valued customer, who recognises and trusts the benefits of using our CFD technology and expertise to assist with their design projects. 
https://www.cape-horn-eng.com/blind-validation-motor-yacht-2/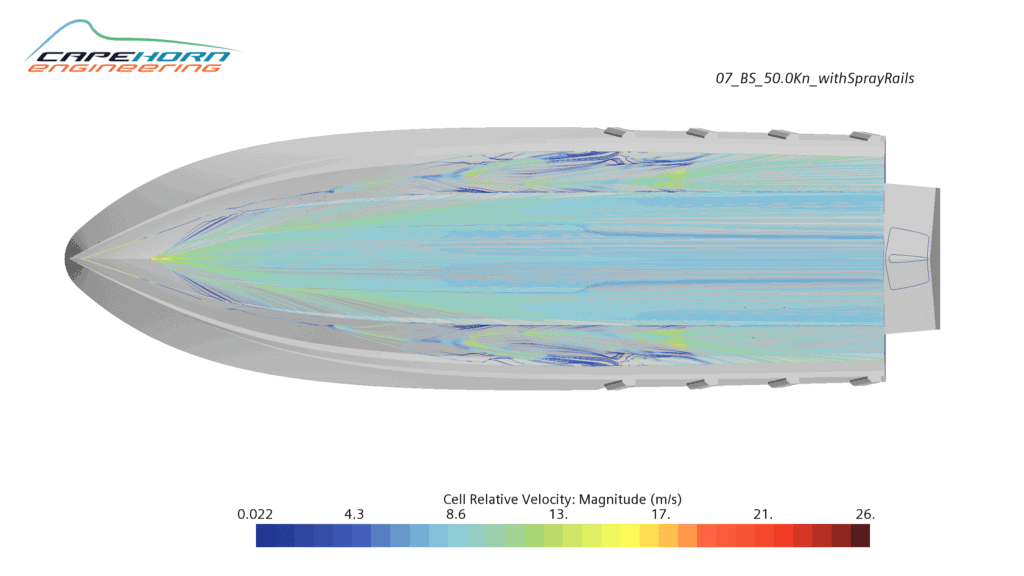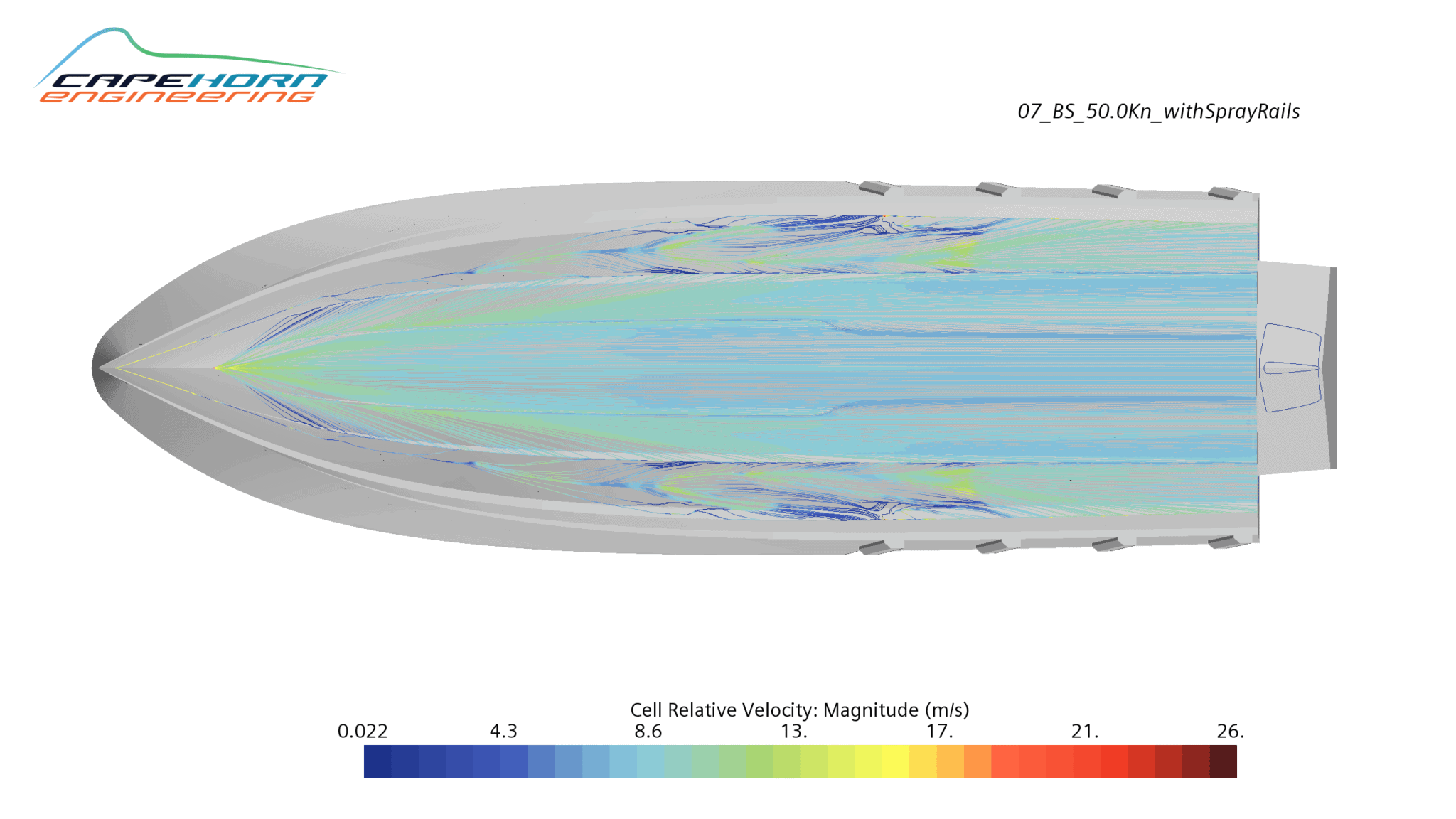 At the recent Southhampton Boat Show Dr.-Ing. Rodrigo Azcueta, Managing Director, Angus Gray-Stephens, CFD Engineer, & Hugh Ward, CFD Engineer, were delighted to be able to step onboard and view the Fleming 58.