Tamoya – 17 Metre Patrol Vessel
Tamoya is a custom-designed and built 17 Metre aluminium Patrol, Research and Parks Maintenance Catamaran, built for the Great Barrier Reef Joint Field Management Program.
Servicing the Islands and waters of the Whitsundays and beyond from its homeport of Airlie Beach, Tamoya's role will include patrol operations, dive support operations, marine infrastructure installation and maintenance (e.g moorings and signs), and island park management (camp grounds, walking tracks, weed management).
Designed by Incat Crowther featuring a wave piercing hull design, the new vessel will be required to operate independently for up to 10 days away from port in remote offshore reef areas with up to 7 persons onboard, and a range of 500 nautical miles. Unique to the design is a central narcelle to improve seakeeping and performance in head seas. and a custom dinghy retrieval system that can safely and easily launch, store and retrieve a 1 x 3.4m rigid inflatable tender.
Norman R. Wright & Sons were selected through a competitive tender process to manage the design construction of Tamoya and after demonstrating their ability with recent projects to deliver high quality commercial aluminium vessels, the most recent being the 24M Patrol Cat Reef Resilience for the same client.

Tamoya was built beside Reef Resilience, our team enjoyed the benefits of the collaborative construction process. We were able to apply what we'd learnt throughout the build process for Reef Resilience to Tamoya assisting with the implementation of AMSA Survey and ISO 9001 quality control requirements.
Tamoya is engaged in protecting the marine parks of the Whitsunday Islands through the Great Barrier Reef Field Management Program.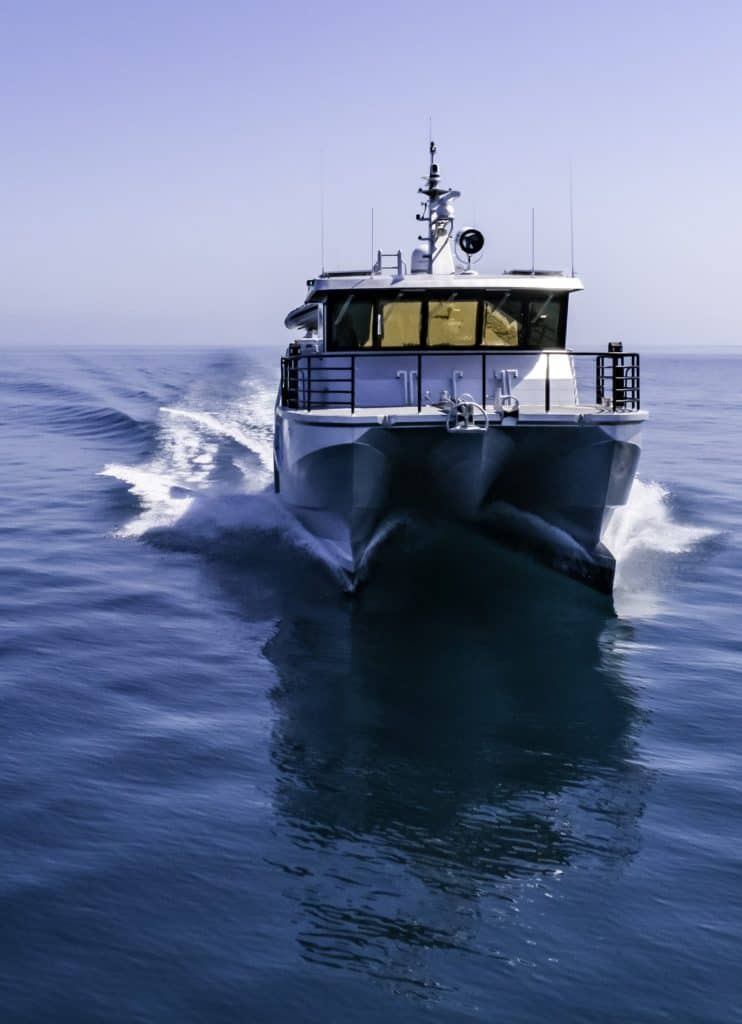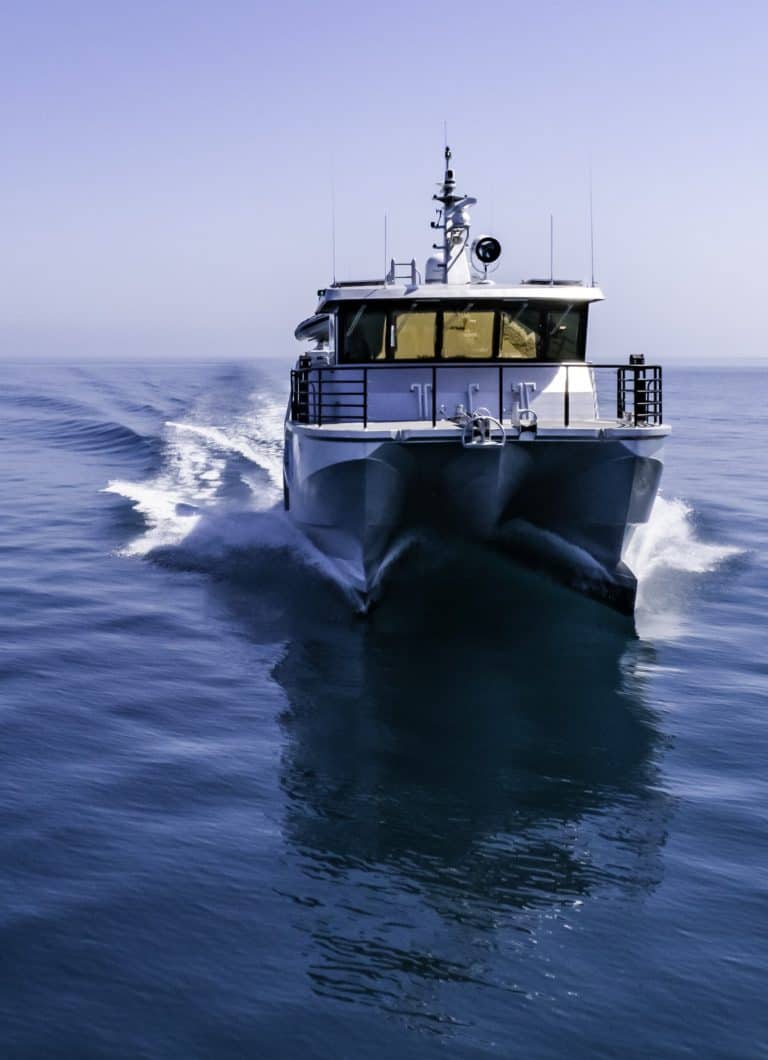 17 Metre Patrol Vessel
Vessel Name: Tamoya
VESSEL TYPE | Patrol and general purpose work vessel
CONSTRUCTION MATERIAL | Marine Grade Aluminium
HULL FORM | Incat Crowther design IC19045
MEASURED LENGTH | 17.0m

BEAM | 6.5m
DRAFT | (maximum) 1.5m
PROPULSION | Shaft driven propeller

MAIN ENGINE POWER | 2 x MAN i6-850 625Kw @ 2300 rpm
GEARBOX | 2 x ZF 510 V 2.22:1 reduction
SPEED | 20 knots (minimum) cruise speed at 1970 rpm
RANGE/ENDURANCE | 500 Nautical Miles @ 20 knots + 10 days at sea + 10% reserve
POWER| Kohler 33 EFOZCJ 33Kw 3 Phase

TANKS FUEL | 2 x 3300 litre

FRESH WATER | 1000 litres
SULLAGE | 400 litres
SURVEY/FLAG | AMSA DCV 1C (24 POB) & AMSA DCV 2C (14 POB)