As many of our custom projects require a wide range of unique cabinet making and timber boat building skills, we're very fortunate to have a number of highly experienced master trades people in our team. Laurie Zabowski was heavily involved in the creation and construction of our recent bespoke staircase and custom furniture project for a leading global luxury brand and their new Sydney flagship store. It's great to provide a bit of background on Laurie and his involvement in the project.
Team Member Profile – Laurie Zabowski – Cabinet Maker & Fitout Leading Hand
Can you tell us a little about your background?
I'm a Cabinet Maker by trade and started my apprenticeship working for a furniture manufacturer making all different types of furniture. After a while I became the Production Manager for a furniture manufacturer and then moved to a kitchens business. I didn't really like working with kitchens as I find them to be repetitive type projects so I then moved to Wright Marine where I worked with NRW on "Bandanna" and "Eagle". I was presented with an opportunity to assist with some engineering works on a fleet of Azimut boats for One & Only Resorts in the Maldives so I did that for a while, returning to NRW in 2018 where I worked on the refurb of "South Pacific" and the start of our custom 60 Sport Fisher "Aura".
How long have you been at Norman R Wright & Sons?
Overall about 7-8 years firstly in 2002 then returning in 2018.
How have you seen boat building change over the year?
With my focus in cabinet making and fit-out I've really noticed a change in the types and shades of timbers being used. There seems to be more emphasis on lighter tones and colours these days and less of the traditional dark teaks and fiddle rails. The designs, look and manufacturing processes seem simpler now, however I do tend to have a preference for the traditional timbers, look and feel.
How has Norman R Wright & Sons changed over the years?
When I was first at NRW everything was done by hand, and although we do still do a lot by hand I'm seeing more infusion, vacuum bagging and painting. The use of veneers hasn't changed that much.
What has been the highlight of your career?
In general it was the opportunity to travel overseas and work on different types of boats and brands. At NRW working on "Aura" and seeing the way she came together was great. There were a number of unique styles, colours and materials used in "Aura" and it was interesting to see how they would all come together, the end result is just stunning. Great to see and work with materials I hadn't worked with before.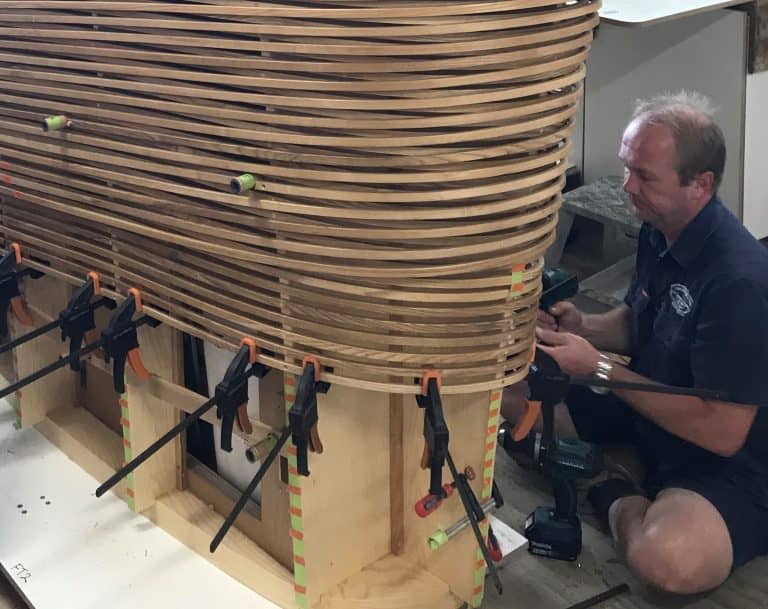 You were heavily involved in the recent bespoke staircase and custom furniture construction project, what was that project like to work on?
I mainly looked after the custom furniture side of the project and it involved a lot of timber bending, using different processes and a lot of testing to see how far we could push & twist the timber before it would break. It was a quite a stressful process initially but after you understand how far you can work the timber it was a great process. I feel our experience in boat fit-outs was critical to this project as traditional cabinet makers mainly work with linear finishes and rarely undertake bending of timbers and bending to this scale. So I thought we were the perfect choice to undertake such an intricate project.
What do you see as the benefits for clients who choose to build or undertake maintenance of their boat or custom timber construction projects with NRW?
Our experience and workmanship is world class, we deliver such a quality product. I'm not aware of any other boat builder who can achieve the scale of what we do.