Avis
In early 1916, Norm drew up the specifications and sketches for a 28ft launch for a G. W. Richmond Esq of  Boyne Island (near Gladstone).  Records show that Richmond had established a dairying and small
crop farm on land bordered by Bray Park and would have had access to the Boyne River.  The requirements of the vessel were not clear, however it seems fishing was certainly one of them.  From Norm's correspondence: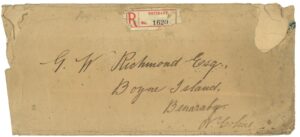 "Dear Sir, Please find enclosed small sketches and specifications of launches you are enquiring about. The No. 1 sketch is the most popular configured fishing & pleasure & hiring launch here. The No. 2 plan: – half deck and short turtle are disapproved by fishermen here now , as a matter of fact, they have in some cases taken the turtle & decking off their old boats and fitted the raised deck house similar to the No. 1 plan. However, this is a matter for you to decide which plan you choose."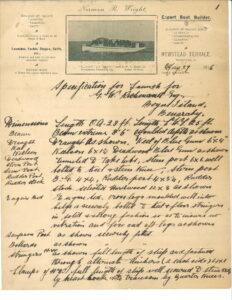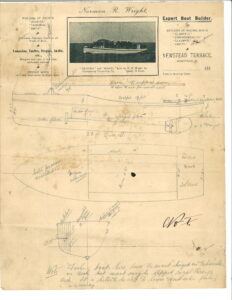 From the archives of Norman R. Wright & Sons.
Initial pricing was "complete free alongside steamer, 116-00 pounds" and time for completion was quoted at 10 weeks from date of acceptance.  "Notwithstanding any omissions in these plans and specifications the boat is to be built and finished in a first class manner according to the best customs of the trade and launched on the Brisbane River."
Avis was eventually commissioned at 30ft for 145 pounds.
From the 1923 Bundaberg Mail, it was clear Avis was being used by Richmond for tours:
(From Our Correspondent.)
On Sunday last Mr. G. Richmond
ran a motor boat excursion to the
Boyne Island beach. The boat left
at 9 a.m. and the destination was
reached at 10 o'clock. A fair crowd
journeyed down, including visitors
 from Taragoola and Calliope. Tennis
and other games were indulged in
drinks were there in abundance.
Altogether a very nice day's outing
was spent and all arrived back to
the landing place at 9.30 p.m.
Other records appear to show Richmond had tendered Avis for the mail run from Benaraby to Boyne Island.
At some point, Avis passed hands to Don Grant of Gladstone who again used her for fishing charters, tours and, in the late 1940's and early 1950's, officially welcoming yachts from the Brisbane to Gladstone Yacht Race.  One such fishing charter was reported in Rockhampton's Morning Bulletin 1949:
Twenty-one members of the
Gladstone Amateur Angling
Club made the trip by boat to
Graham's Creek on Sunday,
January 23. The launch Avis,
with Don Grant as skipper
left the O'Connell wharf at 6
a.m. and arrived back at 5.15
p.m. thus giving these keen
fishermen time to bring home
some good catches.
In all 128 fish, of many dif-
ferent varieties, were caught,
the biggest being a 5lb. cod
caught by Mr A. J. Smith.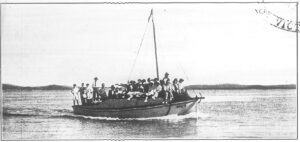 In 1954, Avis was bought by the Dunnett family and started a regular run to Curtis and Facing Island and also taking mail to Monte Christo Crossing and Curtis.  (In 1918, the Dunnett family had commissioned NRW for the "Thistle" – a vessel similar to Avis.)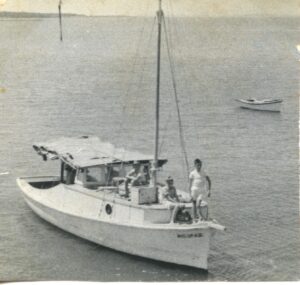 Berthing at Southend Jetty Curtis Island
In 1973, Dan Riys, a Wynnum fisherman, as was his father, bought Avis from Benny Russell.  At some point Benny had purchased Avis and brought her down from Gladstone to join the Wynnum Creek fishing fleet, which in its heyday saw around 100 professional fisherman netting the bay for mullet, bream, and summer whiting.  When Dan bought her, the Creek was a hive of activity with fishing boats lined up 4 or 5 deep in places along the banks, almost closing the entrance off.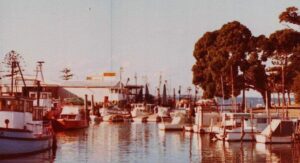 By co-incidence, Dan had married a Gladstone girl, Iris.  From his mother-in-law, he had heard of their adventures in Gladstone, in particular, the times the family would go to Curtis Island for 4-6 week holidays, loading up the passenger boat with, chooks and pigs, etc for the extended stay.  Some time later, it finally clicked – the Avis was the same boat that delivered Iris to Curtis Island as a little girl!   Iris had moved to Brisbane to be with Dan, and Avis had followed her and become Dan's second love – or as Iris now puts it when introducing herself – 'There's the love of his life, and then there's me!"
Typical of the fleet, Dan motored Avis to the western shores of Moreton and Stradbroke Islands with up to 7 x 19 foot dinghies in tow and an icebox dinghy.  (Later Dan would build 24ft icebox dinghies to tow with 3 compartments.  They could tow them underwater through the waves with lids strapped down!).  Working with the tides, nets would be setup on the banks, herding the fish into a tunnel (hence the term "tunnel netting").  The tunnel would be placed alongside the Avis who would be sitting on the bank – staked so as not to topple.  The fish would be scooped from the tunnel into the dinghies and Avis and iced for the trip home.  (A demonstration of tunnel netting in Moreton Bay can be found here: https://www.youtube.com/watch?v=owiIZ5JElxk)
In those days, there were no weather forecasts to speak of, and there were no radios for communications.  The run home could be eventful.  Dan recalls one run home from Moreton into a 35 to 40 knot storm front with 6 dinghy loads baled on board – about 5 ton of fish.  Halfway home, the Avis was taking on water over the stern into the well deck.  With the bilge pump not keeping up, and one of the crew clinging to the rising foredeck, panicking as he couldn't swim, the decision was made to jettison the catch.  Eventually, after 19 hours, they managed to get back to the Creek – but still able to bring home about 2.5 ton of fish.
On other occasions, towing loading dinghies into heavy weather, they would have to sacrifice some of the catch by casting a dinghy or two off the tow and anchor them with a marker float.  On retrieving the next day, the catch would have been spoiled, but better to get some of the catch to market than none.
Without radios, you also did not know how the competition was going. You might return to market with a full load, but the market may already be at full processing capacity, and you might find yourself having to waste your entire catch.  Tough indeed!
In 1978, Dan refitted the Avis, adding 2 planks to the topsides, raising the floor so as it would be above the new 85hp Lees motor (he bought it with a 55hp Lees), and adding to the cabin.  In the 1990's he finally sheathed the hull with a fibreglass skin.  The structure was not the problem, he was just tired of the recaulking that came as a result of poor Avis thumping on the banks as she refloated with a full load.
There is little documentation of these amazing fishing adventures.  Camera's were not common, and as Dan says "why would anybody be taking pictures – it was just work."  We asked him what the biggest changes over the years were fishing the banks – the first thing that came to mind was "Bull Sharks!"  "We were used to working around tiger sharks and hammerheads – working at night in water up to your armpits setting up to a 1km of netting – they were mostly predicable.
But there are just so many Bull sharks now and they are unpredictable and in much closer to the banks and mangroves."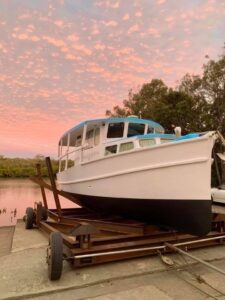 Avis at Molle Road Slipway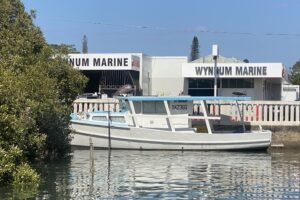 and at her mooring opposite Wynnum Marine
These days, Dan and Iris take Avis down the bay just for pleasure.  When we spoke to Dan, he was planning her annual slipping at Molle Road slipway where she get treated like royalty.  "She's in great condition – I think she's got another 100 years in her…."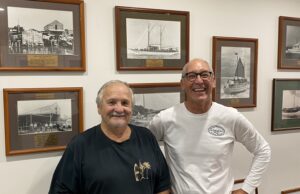 Dan Riys with NRW Managing Director Tony Riek