Norman R Wright was born in 1885 in a small cottage at the corner of Quay Street & Brisbane Street, Bulimba. The house had a small attic and Norman would spend time up in the attic working on some of his creations.
In 1893 Brisbane was deluged with rain creating the largest flood in the history of the city. Quay Street disappeared under 24 foot of water when the banks of the river were breached. The 1893 flood was far higher than the 1974 flood as the "74" flood didn't breach the banks at Bulimba and certainly not Quay Street.
During the 1893 flood a large cedar log was swept into the property and was quickly secured by Norman and his brothers. After the flood the log was milled to quarter sawn planks and stored for future family projects.
Twelve years later Norman finally had a use for this beautiful quarter sawn Cedar, deciding to build his first Racing Skiff. He decided to build a 10 foot Skiff, which was a very popular boat for young, up and coming sailors at the time.
Norman first built a half model of the full boat he wished to build – this model still exists today and is in Bill and Angus office at NRW. When satisfied with the shape, he took the lines off the model and lofted the boat on the attic floor of their family home. The lofting of the boat was still on the floor of the house when it was finally demolished about 15 years ago.
Norman, armed with the knowledge of boat building, picked up at Whearetts Boatbuilding Shed, started creating the new 10 foot Skiff. On completion he christened her "Commonwealth". She was a fat little boat, measuring 10 foot long, with a 6 foot beam and 2 foot draught, and weighed about 100kg's.
She was launched in 1906 on a Saturday morning, and according to a press clipping from the Courier Mail, she raced later that afternoon and won the Australian Title. She was a magnificent sight when running with all of the gear up, with a spinnaker the same size as an Etchell, along with her mainsail, topsail, ringtail, watersail and balloon jib. She would measure over 40 foot from the tip of the spinnaker pole to the end of ringtail boom. To put this into perspective, on the wind, this 10 foot skiff, the mainsail and jib, had more area than an Etchell. Downwind she would carry half as much sail again to that of an Etchell.
"Commonwealth" carried a crew of 5, and within that crew there were many future Skiff champions including Lance Watts, who would go on to win five Australian 18 Foot Skiff Titles, as well as teaming up with Norman's brother Alec Wright to create the famous boat building company Watts & Wright. She was very successful winning most Queensland titles and three Australian titles while under the ownership of Norman. The Queensland Skiff classes being 10, 14, 16, 18 or 22 foot were the best in the country at the time. So many champion sailors came from the ranks of these Skiffs.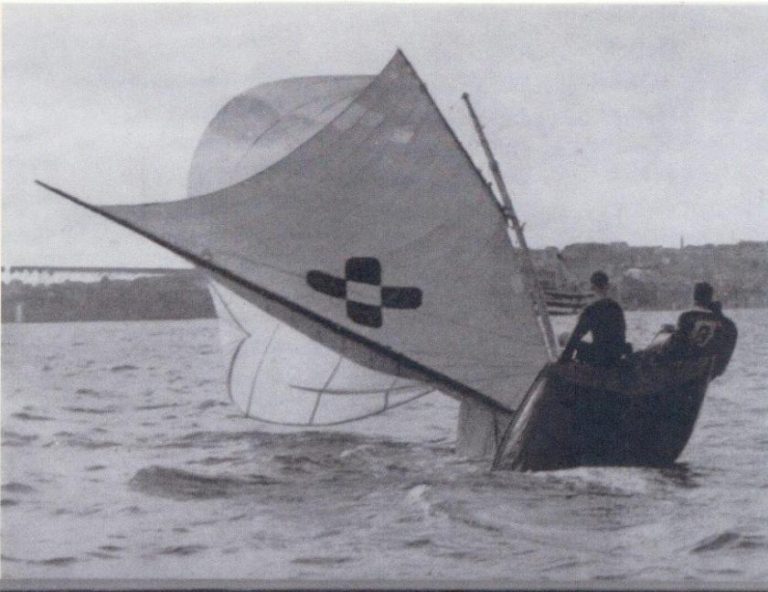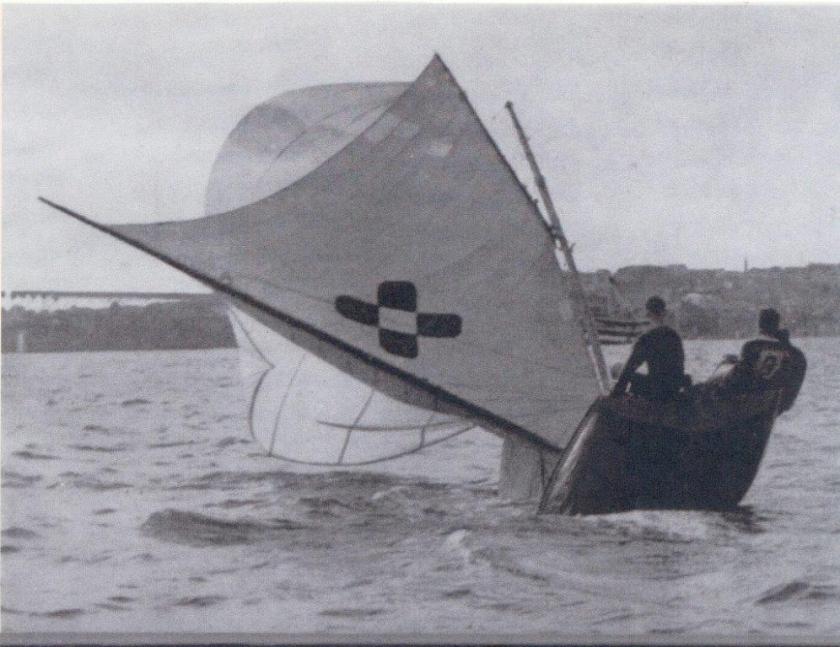 "Commonwealth", National 10 Footer Champion, nosedives – and keeps on nosediving. I think I had a copy of the magazine with this photo in it, left over from my father, before I was old enough to sail. If I remember rightly, the caption said that the Commonwealth stayed in this position, with the "booby cloth" cover on the foredeck keeping the water our, for a mile or so until she cross the finish line. – Bill Wright
My Grandmother, Gladys Thomas, Norman's soon to be wife, also sailed "Commonwealth".
Coming back to the rig sizes, the big rig for "Commonwealth" was as follows:
| | |
| --- | --- |
| Mast | 22'6" |
| Boom | 19'6" |
| Bumpkin (Bowsprit) | 16' |
| Spinnaker pole (assembled from 4 pieces) |   21' |
| Mainsail | 280sq feet |
| Baloon jib | 300sq feet |
| Spinnaker | 450sq feet |
She would carry this rig with a crew of 5 in up to 10 knots of breeze, above 10 knots and the Number 2 or Number 3 rigs would be stepped. If she capsized, as did happen when Uncle Norman was sailing, the boat would be slowly pulled to shore by a rescue boat and unrigged and emptied of water. There were no buoyancy tanks in those days.
Norman eventually sold "Commonwealth" in 1914 to Lance Watts due to starting his business "Norman R Wright Boatbuilder". He was so busy with building his business that sailing took a back seat for a while, culminating in the start of World War 1 in late 1914 meaning he did no sailing at all until 1919.
"Commonwealth's" next owner was G Conway who bought her in 1924, continuing her winning ways by taking out the Balmain Regatta that year, the Australia day Regatta in 1925 and Port Jackson Champion in 1925 & 1926. She was still racing successfully until 1930.
She was stored, I believe, in the Manly Skiff Club in Sydney for many years. Dad spotted her when sailing his 16 foot Skiff down there in the mid 1950's.
Not many boats can be sailed competitively for 4 decades, but "Commonwealth" certainly could. "Saltash" was another, her story will be told soon.
I would like to thank Ian Smith the Author of "The Open Boat" for assistance in providing some of the information for this article. https://www.openboat.com.au/index.html
Regards
Bill Wright